The exclusive list of the finest restaurants in Latin and Central America, sponsored by San Pellegrino and Acqua Panna has been released also this year! The award ceremony took place in several Latin America and Central America countries in the past years, including Peru, Mexico and Colombia. This year was the turn of Argentina, in fact the ceremony was held at Usina del Arte in Buenos Aires on October the 10th, with the presence of famous chefs, restaurateurs, culinary experts and journalists from all over the world.
Peru has always been included in the list with several restaurants and this year the country reaches the pick of 11 restaurants out of 50, which we consider an important percentage that mark the role played by Peruvian cuisine in the South and Central America sub-region.
For the third year in a row Maido (https://www.maido.pe/) by Chef Mitsuharu Tsumura has been recognized as the best restaurant in Latin and Central America. The same happened to Central Restaurant (https://www.centralrestaurante.com.pe/) by Chef Virgilio Martinez Veliz, which awarded the second place for the third year in a row. The third place went to Pujol Restaurant (http://pujol.com.mx/) by Chef Enrique Olvera, located in Mexico City. Central Restaurant also awarded the Sustainable Best Restaurant prize for their work with the ingredients throughout their Mater Iniciativa project and the great importance given to local products by Chef Martinez.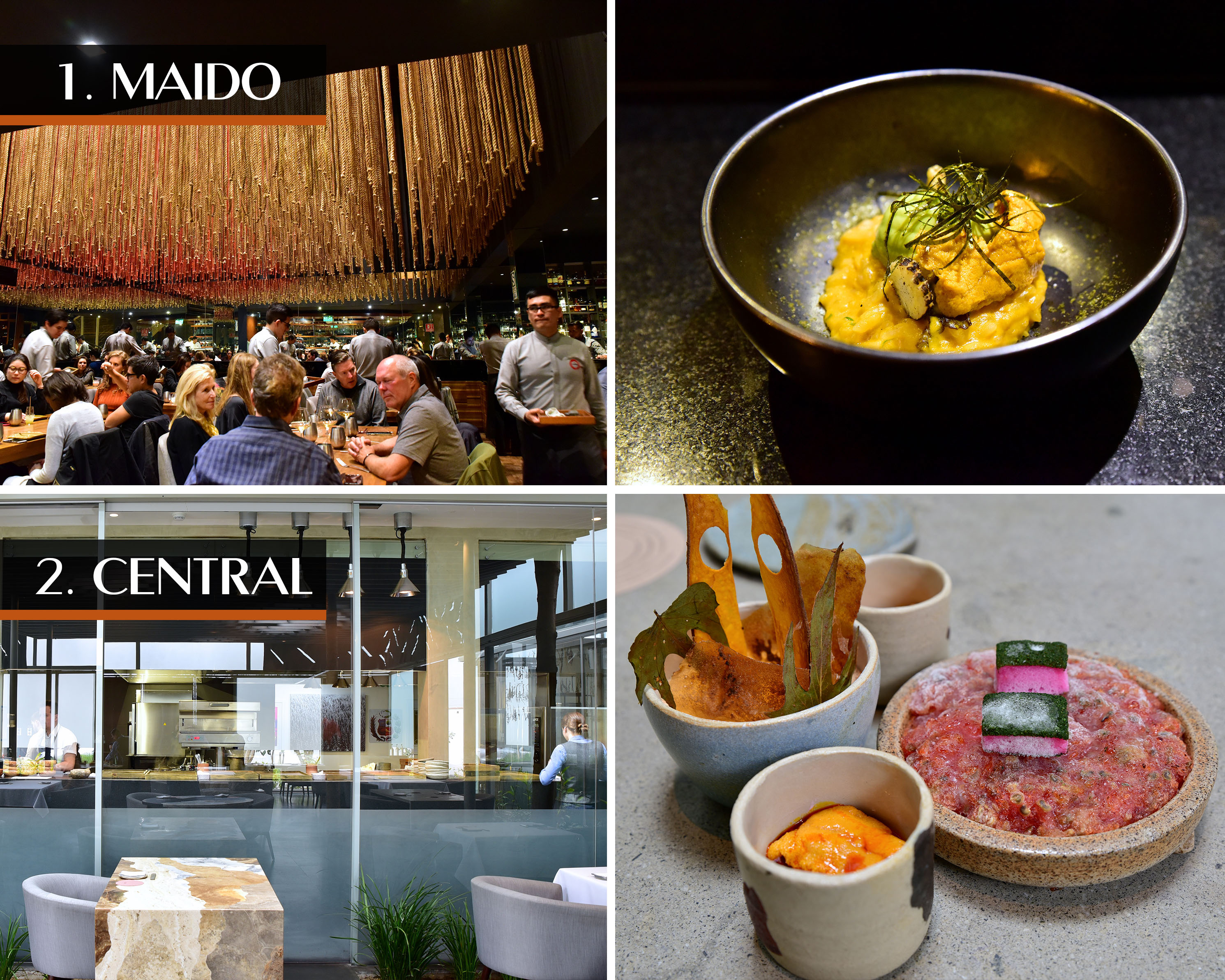 The other Peruvian restaurants included in the list are: Osso (http://osso.pe/), a sustainable butcher's and delicatessen shop and restaurant with two branches in Lima, owned by Renzo Garibaldi at the 9th place, Isolina Tabern (https://isolina.pe/) operated by Peruvian Chef Jose del Castillo at the 12th place, Astrid y Gaston (http://www.astridygaston.com/) by the worldwide recognized Chef Gaston Acurio in position n. 13, Rafael restaurant (http://www.rafaelosterling.pe/es/lima.html) by Chef Rafael Osterling in position 19, Kjolle Restaurant by Chef Pia Leon in position 21 as a new entry, La Mar Cebicheria (https://lamarcebicheria.com/) by Chef Gustavo Montrestuque in position 26. Among the new entries we have Mil Restaurant (https://milcentro.pe/) in place 36, a new restaurant lead by Chef Virgilio Martinez and placed in Cusco region. Malabar Restaurant (http://www.malabar.com.pe) by the famous Peruvian Chef Pedro Miguel Schiaffino in position 48 and in position 49 Mayta Restaurant (https://maytalima.com/) operated by Chef Jaime Pesaque, another new entry.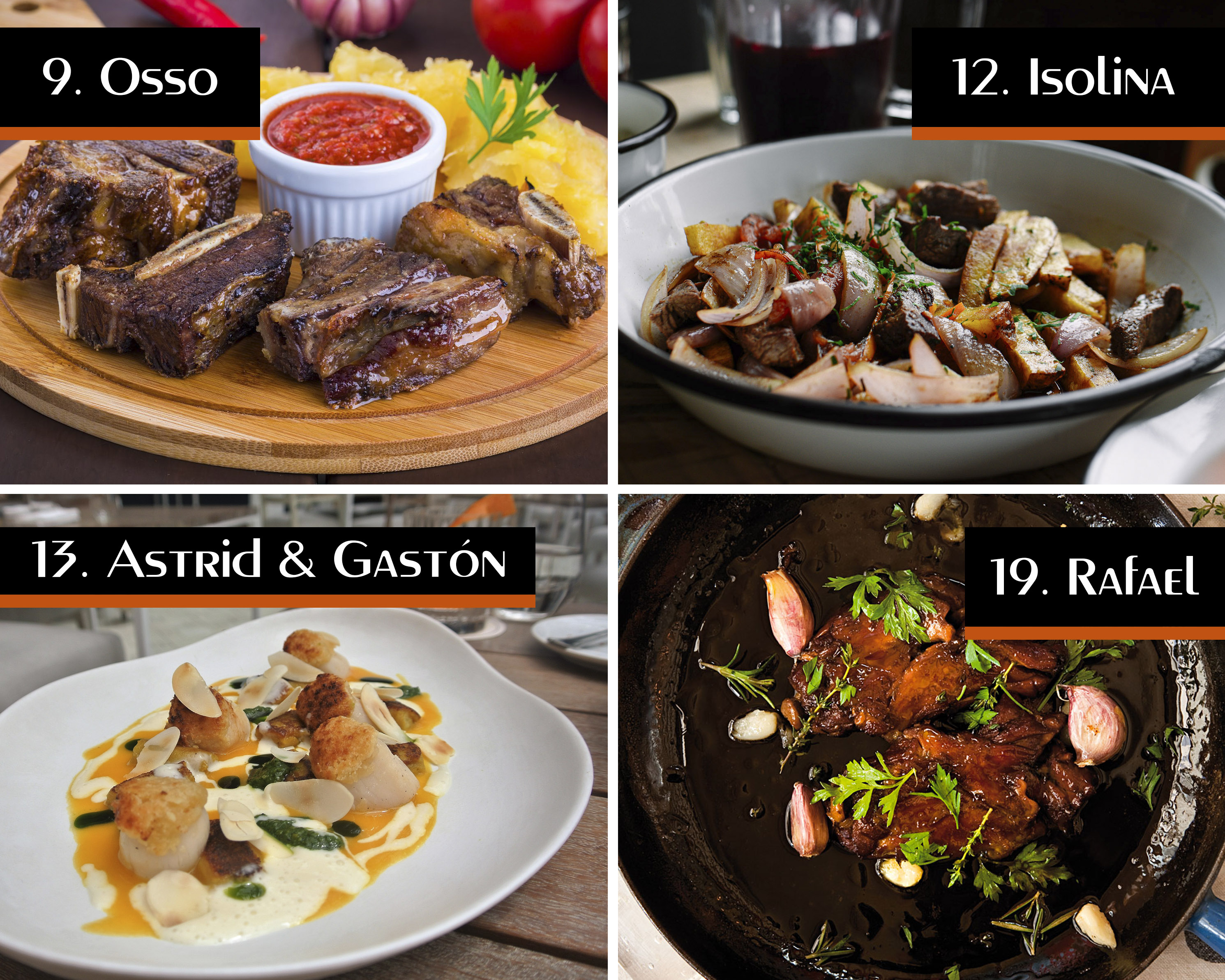 Compared to the 2018 Latin America 50 best Restaurants' list, Amaz Restaurant (http://amaz.com.pe/), lead by Chef Pedro Miguel Schiaffino, is no longer included in the list.
The highest climber among Peruvian restaurants comparing to the 2018 LatAm list is Osso Restaurant, which has climbed 16 positions, from the 25th in 2018 to the 9th this year. The highest new entry award went to Kjolle Restaurant, a great success by Peruvian Chef Pia Leon, who also awarded the Latin America's Best Female Chef in 2018 and awarded several times the Best LatAm Restaurant Award with her husband Chef Virgilio Martinez Veliz for Central Restaurant. Chef Pia Leon is in the list also for Mil Restaurant in position n. 36.